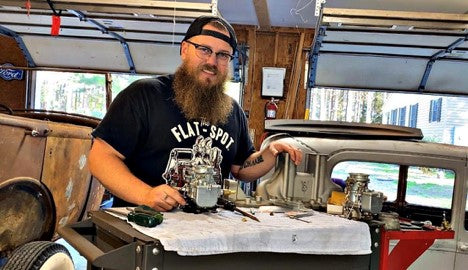 Differences in Flathead Distributors
Stories and Photos by Zac Parks
Check out more from Zac on his Instagram Account: @wiredcustoms.va
The Ford Flathead V8 will live in the history books as the first affordable V8, but to us it is one of the motors that shaped early hot rodding. I am Zac Parks from Wired Customs, and I would love to share with you my passion for the Ford Flathead and key you in on some Flathead Ford Facts!
This time I am going to show you the different Distributors and explain what year they came out, so next time when you're on an outing and see one of these motors in its natural habit, you can hold your own with traditional Hot Rodders.   
Helmet Style Distributor 1932-1941
There are two different styles of the Helmet, one has two bolts for the coil and one has three, there were various style coils for these years so don't let that confuse you.
The Crab Style Distributor 1942-1945
The cars that sported these originally, were considered "War Rations." In February 1942 Ford stopped supplying the public with vehicles and started making bombers for the war effort. Today the Crab is one of the most common distributors.
The Round Type Distributor 1946-1948. 
This was the last distributor made for the Early Ford engines with the bell housing casted into the block. The cover splits the spark plug wires to keep it out of the fan blades, but underneath we see something that looks similar to a more modern distributor.
Last but not least, is the final form of the Flathead Ford Distributors. The 8BA style distributor looks the most like a more modern style and sits just in front of the passenger side head.
All the distributors run off of the front of the camshaft, and on a Ford Flathead the camshaft spins in the opposite direction of the crankshaft! Pretty cool how they used to do it! 
Thanks for reading and see you next time!