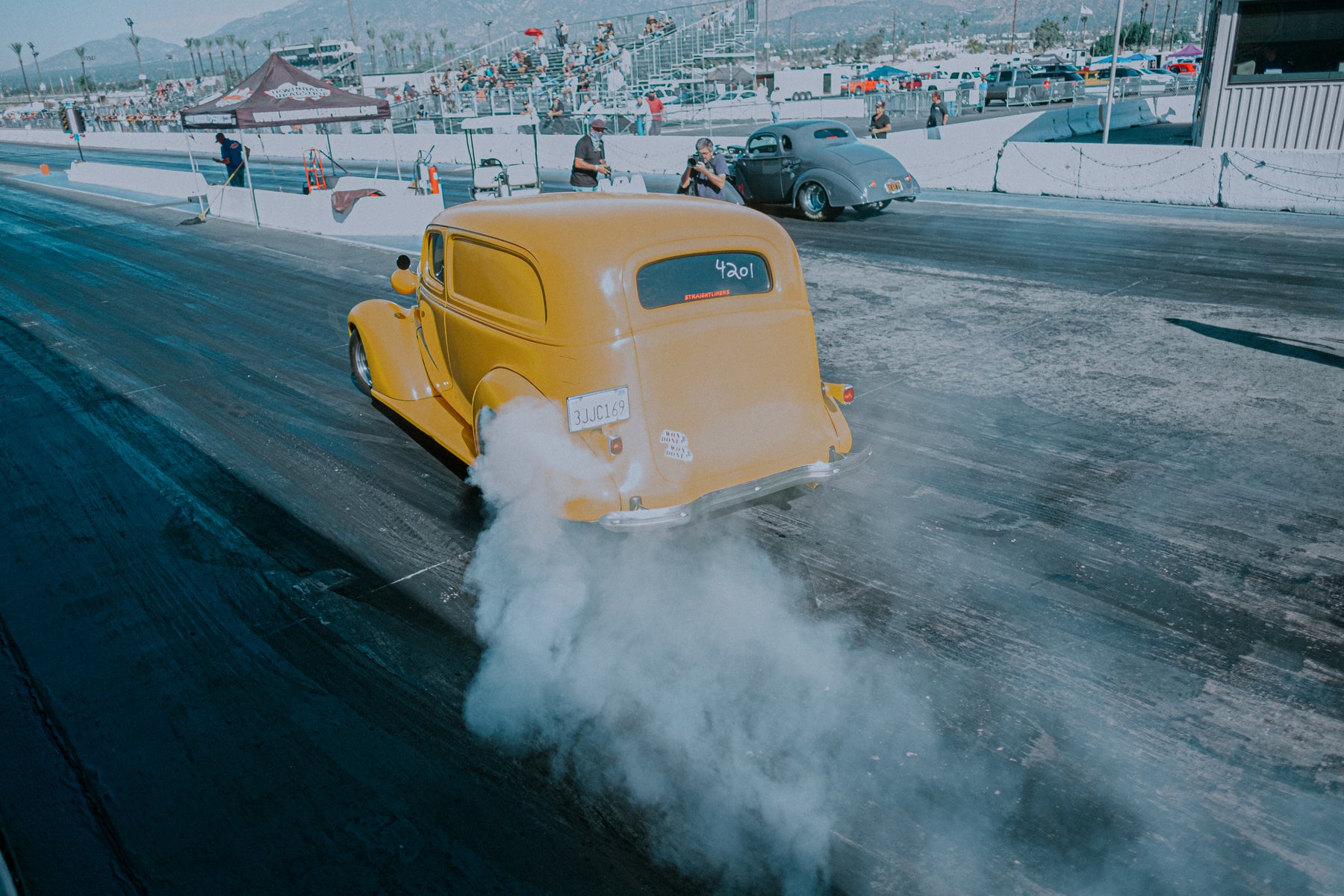 Antique Nationals 2021
Make sure to check out all of our killer merch...click here!
Stories and Photos by Ben Radatz from Dare Devil Inc
For more from Dare Devil Inc, check it out here: dare-devil-inc.com
The energy at Antique Nationals can be felt even before pulling into Irwindale Speedway: the line of vintage cars at the gates, the announcer echoing though the complex, the engine roar and exhaust fog under blazing arena floodlights.
These are sights and sounds familiar to anyone who's been to the drags, and a big part of what makes the experience what it is. It's also an increasingly rare spectacle in the world of pre-1960s racing, with bespoke venues becoming the dominant outlet in recent years.
To that end, Irwindale Speedway is the right backdrop for Antique Nationals: a no-frills speed complex with a circuit arena and NHRA-sanctioned sideline dragstrip, bordered by royal palms and little else of scenic value between them and the distant San Gabriel mountains. In fact, its industrial backdrop and the obscene number of high-power lines and towers that dominate the skyline are themes unto themselves, as is its midnight-blue dragstrip lined with massive sponsor billboards and aggressive k-lines that make it feel more like a swath of LA freeway than a proper setting for a nostalgia drag.
Like the complex, Antique Nationals is a serious meet. Now in its 49th year — 48 of those being continuous, with a recent two-year pause for weather and covid — it's been the haunt of SoCal racers and clubs for generations, where career drivers square off with young hopefuls wanting to level up after tuning their builds elsewhere. There's no start line pageantry (burnouts aside), few vendors and even fewer lifestyle tourists. Race, tune, exhibit, watch, and lunch are the available options at the Nationals; the focus is almost entirely on the participants and the 1/8 mile ahead.
It's what makes Antique Nationals such a critical meet: it isn't a product of the kulture but a beacon for it, an organic convention and exchange of information and ideas, where the business and future of hot rodding are discussed over expensive event beers by those of influence and means to set its course.
It's as much a reunion and family event, with campers and tailgates and parking lot football matches. An exhibition in the adjacent lot brings out some of the region's finest and latest builds. In short: a classic day at the drags — a tradition that the cities of Irwindale and nearby Fontana (where the event was previously held) can arguably lay claim to founding, if not at least bolstering through the decades. Antique Nationals has been at its center throughout, making it one of the most relevant, and oldest, nostalgia drags in the U.S.
It's a notable contrast that the event now takes place at a venue decades its junior, and even more so once the vintage cars fill the staging lanes under its towering '70s marquee. But the Speedway's commitment to safe, legal street racing and enthusiastic support for the community — old and new — parallels Antique Nationals' charter, together bringing a tradition intact through covid and onward.
Page created using Blog & Page Builder by Reputon